Tara Goddard Named 2016 UTC Student of the Year
Posted on January 6, 2017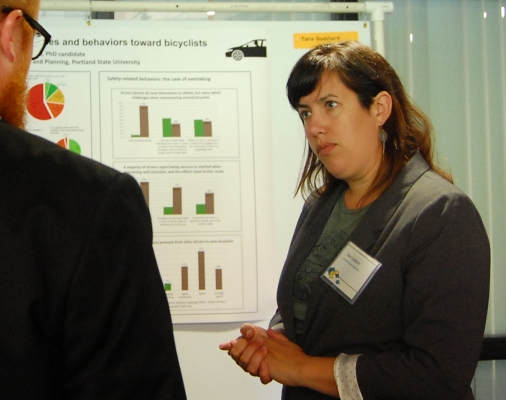 Read more of our TRB 2017 coverage here.
Tara Goddard, a doctoral candidate in the Nohad A. Toulan School of Urban Studies and Planning at Portland State University, has been selected as the 2016 NITC university transportation center student of the year.
NITC takes pride in the development of tomorrow's transportation leaders, involving students in research and supporting student transportation groups.
Goddard is the 11th student of the year since Portland State established its university transportation center in 2006. She is being recognized at the Council of University Transportation Centers 2017 Annual Awards Banquet in Washington, D.C., where she's also attending the Transportation Research Board annual meeting.
Goddard's dissertation research explores drivers' attitudes and behaviors toward bicyclists. This reflects her broader interest in the intersectionality between transportation and the social sciences, and how professionals in both disciplines can work together to improve upon public spaces and the ways that people interact within them.
This research focus comes with exciting opportunities for future work, a future which is still being determined: Goddard has applied for academic positions in different parts of the world and is waiting to hear what country she will be living in next year. Meanwhile, she is staying busy.
"I am vigorously trying to wrap up my PhD in the next two months, and teaching an undergraduate course on healthy communities that I am excited about. I'm also very excited to present my work here at TRB in a special on doctoral transportation safety research, because safety is near and dear to my heart," Goddard said. "I'm really looking forward to finding out where I'm going next and starting the next chapter in my academic and research career."
Goddard has worked as associate transportation planner with the city of Sacramento and as the bicycle/pedestrian coordinator for the city of Davis, California, which enjoys the highest levels of transportation cycling of any city in the United States. She has a Master in Civil Engineering from the University of California, Davis. 
Her other research interests include planning for sustainable and just cities, improving roadway safety and reducing conflicts. Of particular interest are the relationships betweens transportation and social psychology and their influence on differential experiences and safety, especially for women and people of color.
In her spare time, Goddard likes to hike, kayak, travel, and spend time with her family, friends, and dogs Baxter and Smoky.
Share this: