U.S. DOT assistant secretary tours Portland
Posted on June 16, 2014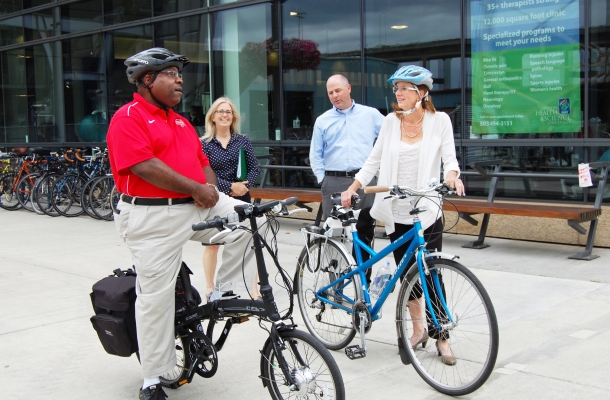 Bicycle and pedestrian safety has emerged as a top priority for U.S. Transportation Secretary Anthony Foxx and the Department of Transportation. With this in mind, the department's top research official visited Portland State University, home to the U.S. DOT-designated national center for livable communities.
Greg Winfree, the assistant secretary for research and technology, visited Portland State's transportation research and education center June 13. Center Director Jennifer Dill and researcher Christopher Monsere gave Winfree a tour of the center's living laboratory: Portland's active transportation infrastructure.
Winfree, an advocate for improving safety for vulnerable road users, explored the city's various bicycle safety efforts, including bike boulevards, protected bike lanes, bike boxes, bike-specific signals and signage. He also learned of pedestrian research involving traffic signals, crossings and modeling. 
The tour highlighted research projects funded through U.S. DOT's University Transportation Centers program, including "Lessons from the Green Lane," "Evaluation of Bike Boxes at Signalized Intersections," and "Improved Pedestrian Safety at Signalized Intersections Operating the Flashing Yellow Arrow."
A motorcycle enthusiast, Winfree took a turn at the handlebars of a different two-wheeled ride: an e-bike. He toured Portland's South Waterfront with Portland Bureau of Transportation Director Leah Treat and Hau Hagedorn, research program manager with the Portland State center. They pedaled a protected bike lane in the rapidly developing multimodal neighborhood while learning about on an ongoing e-bike research project.
From there, Winfree stopped by the Portland State Urban Center, where Steve Percy, the new dean of the College of Urban and Public Affairs, introduced some of the university's standout graduate student transportation researchers. Sirisha Kothuri presented on pedestrian signal timing; Arlie Adkins on mode choice among people who have moved recently; Christopher Muhs on modeling pedestrian trips; and Alex Bigazzi on cyclists' uptake of air pollution. An undergraduate student team displayed a device designed to track vehicles behind a user and predict impending collisions.
Winfree's tour wrapped up at Electric Avenue, the block-long electric vehicle charging hub on Portland State's campus, where he learned of electric vehicle research and collaborations between the university and partners in the public and private sectors.
Follow the link for a photo set of the assistant secretary's visit on our Flickr page.
Share this: