PSU student team finds transit solutions for Salem-Keizer
Posted on June 16, 2014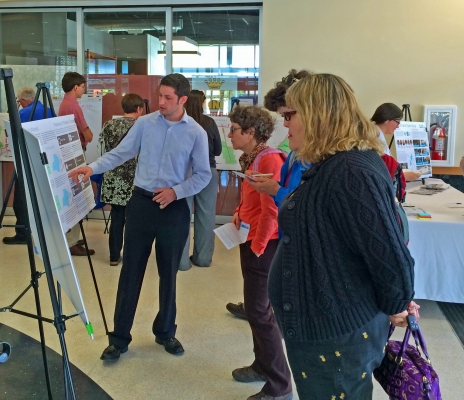 Portland State University students in the Master of Urban and Regional Planning (MURP) program came up with some innovative transit solutions for the Salem-Keizer area, just south of Portland, Ore. in the Willamette Valley.
The Salem-Keizer transit provider, known as Cherriots, requested that a planning group come up with alternative forms of transit that would be a better fit for the study area. MURP students Darwin Moosavi, Brenda Martin, CJ Doxsee, Mike Sellinger, Lauren Wirtis and Matt Berggren took on the challenge as their capstone project.
The bus service currently provided by Salem-Keizer Transit is inefficient in the low-density neighborhoods of West Salem, South Salem, and Keizer. Buses in those neighborhoods often run half-full, or nearly empty, along looping, circuitous roads that lack an interconnected grid pattern.
The student team, Paradigm Planning, proposed a "flexible transit" system which can better serve this type of low-density suburban area.
Fixed-route transit is typical bus service, in which buses come to predefined stops at regularly scheduled intervals. Demand-responsive or paratransit, the opposite extreme, is an on-demand service typically reserved for the elderly or disabled, in which a rider calls to be picked up by a bus at home.
Flexible transit refers to any point along the spectrum in between these two extremes.
"We tried to get a sense of how people use transit, then focused on simplifying it," Mike Sellinger, the team's executive editor, said.
The project, Capturing the Ride, was a five-month process that involved extensive community outreach.
During the information-gathering stage, team members held community workshops, rode the transit system themselves and conversed with riders in what they termed a "rolling roadshow," conducted intercept and online surveys, and looked into existing conditions and best practices around the country.
Flexible transit may take many forms, and can be difficult for laypeople to understand. To simplify the concepts, the Paradigm Planning group created two example bus lines called "The Deviator" and "The Hopper." At community workshops, they walked people through what each one would do, with the aid of models and maps.
The Deviator is a fixed route from which a bus can deviate, to pick up people who call in from home or at a bus stop that can be activated on demand. If the stop were not activated, the bus would not go there. The Hopper is a zone without a fixed line. It could have potential stops that are permanent, or it could be purely demand-responsive. People would be picked up in this zone and brought to a transfer point where they could board a fixed line.
After boiling down all the information and feedback from the community, the team came up with three alternative recommendations which they brought to a bus driver focus group, and back to Salem-Keizer community members in a final Open House. To see their recommendations and final products, visit the project's website.
Project Manager Darwin Moosavi presented the project at one of PSU's Friday Transportation Seminars in May. Take a look at the archived presentation for a comprehensive look at the process and results of the research.
The biggest part of the process was working extensively with residents, to give members of the community a voice about the future of transit in their neighborhoods.
"We hope that our community engagement strategies could help inform other agencies who are looking into flexible transit options," Moosavi said.
Paradigm Planning will be presenting their final recommendation to the Salem-Keizer Transit Board of Directors on June 26th.
Share this: