Using Health Indicators in Transportation Plans
Posted on August 21, 2023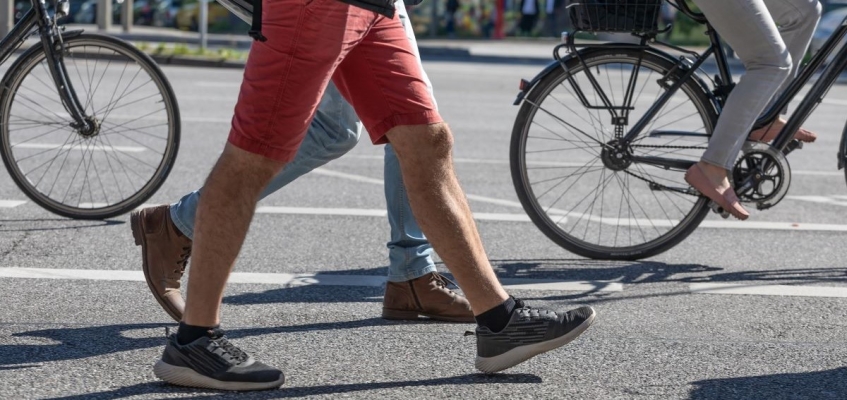 As a social determinant of health, transportation significantly contributes to people's well-being. Walkable, bikable, transit-oriented communities are associated with healthier populations. People in such communities are more physically active, less likely to be injured due to a crash, and less exposed to air pollution.
Because of these and other factors, researchers and practitioners have called for health indicators as one way to integrate public health concerns into transportation decision-making. However, it is unclear how indicators are actually being used and what their impact is on policy.
Research conducted by Kelly Rodgers, a National Institute for Transportation and Communities (NITC) Dissertation Fellow, explored how health-related indicators are being used in municipal transportation plans, whether they are institutionalized into transportation agency decision-making processes, and what influence they have on administrative decision-making.
"I have for some time been working at the intersection of health and transportation, and was interested in how health could be better integrated into transportation decision making. And I have also previously done work on performance measures. And so I kind of combined those two things, to see if health-related indicators were a way of getting transportation agencies to consider health in transportation planning," Rodgers said.
THE RESEARCH
Rodgers conducted case studies of five cities: Boston, Denver, Indianapolis, Memphis and Seattle. The cities were selected because they all have a population size between 600,000 and 900,000, and have diverse characteristics of population density, median household income, race and ethnicity, and geographic location. She interviewed city planning, transportation, and public works staff as well as people working at other agencies, such as metropolitan planning organizations and nonprofits, to find out exactly how health indicators were being used.
The final report includes an overview of various different types of health indicators, performance measures, and the metrics associated with them. Interviews from the case studies delve into how their use was integrated into transportation processes, agency routines, and administrative decision-making.
Rodgers found that the decision to use health indicators can come from various places, including elected officials, departmental staff, and nonprofits or advocates. Their use could also be impacted by financial and technical resources, elected or departmental leadership, departmental culture and routines, and reporting requirements. However, just because an agency is using health indicators, doesn't necessarily mean that they are influencing the decisions that are being made. Rodgers found that organizational factors were more important than indicator factors for influencing administrative decision-making, including the institutionalization of indicators over time.
"It's not the indicator that's important. I've had a lot of people curious about this work who want to know which are the best indicators to use and what's my favorite indicator. That matters to a degree, but it's not the main thing. You need to make sure you've got the organizational structure and support to actually implement it," Rodgers said.
Rodgers presented the results of her doctoral research in a Portland State University Transportation Seminar on April 20, 2023. To learn more, watch the recording or download the presentation slides from that seminar, or download the final report.
ABOUT THE RESEARCHER
Streetsmart Planning, LLC
, a consultancy dedicated to integrating climate, health, and equity into transportation planning. Kelly is chair of the ITE Standing Committee on Health and Transportation and serves on the steering committee of Planning for Health Equity, Advocacy, and Leadership (PHEAL), leading its community of practice effort. She is also a member of the Transportation Research Board Committee on Transportation and Public Health (AME70) and is a co-founder of the American Planning Association's Health Equity and Planning Interest Group.
ABOUT THE PROJECT
This research was funded by the National Institute for Transportation and Communities (NITC).
Photo by Canetti/iStock
The National Institute for Transportation and Communities (NITC) is one of seven U.S. Department of Transportation national university transportation centers. NITC is a program of the Transportation Research and Education Center (TREC) at Portland State University. This PSU-led research partnership also includes the Oregon Institute of Technology, University of Arizona, University of Oregon, University of Texas at Arlington and University of Utah. We pursue our theme — improving mobility of people and goods to build strong communities — through research, education and technology transfer.
Share this: