New York sixth graders get hands-on experience with active transportation data
Posted on March 14, 2013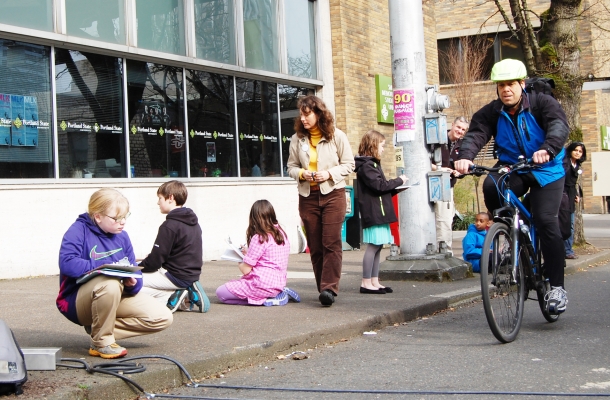 OTREC turned its education efforts on a decidedly younger crowd March 13: sixth graders. A class from Rochester, N.Y., visited Portland on a trip geared toward improving bicycling in their own community.
The students, from Genesee Community Charter School, visited the OTREC offices to learn about active transportation research methods. They took part in group exercises designed to get them thinking about the planning and engineering challenges of transportation systems set up to serve multiple transportation modes.
The highlight of the day came when the students took to Portland's streets — OTREC's living laboratory — to conduct research of their own. Armed with bicycle-counter tubes and infrared detectors, students counted cyclists and pedestrians passing on the Broadway cycle track on Portland State University's campus.
Other students verified the technology with manual counters.
Students moved on to their next stop on a four-day tour of Portland with a better sense of what kind of data researchers collect and how they can use those data to inform policy. Given their experience — the students already have influenced their city on policy ranging from Erie Canal re-watering to an urban art corridor to skate parks — they stand a good chance of using Portland's lessons to build a bike-friendly Rochester.
Share this: