NITC Dissertation Fellow Sarah Leat Investigates Transportation Challenges for Survivors in Intimate Partner Violence Shelters
Posted on June 4, 2021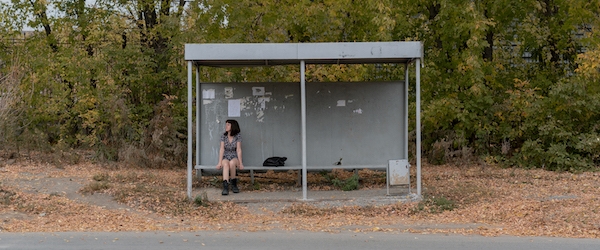 We're proud to announce the publication of a new NITC dissertation: "Identifying and Measuring Transportation Challenges for Survivors in Intimate Partner Violence Shelters," by Sarah Leat of the University of Texas at Arlington; now an assistant professor of social work at the University of Memphis.
"My dissertation sought to identify environmental factors within the built environment which impact survivors of intimate partner violence residing in domestic violence shelters. The findings indicate that environmental factors within the interior and exterior space as well as the location of the shelter significantly impact the mental health of residents. Particularly, the location of the shelter can impact residents' mobility. Shelters placed in areas lacking public transportation or resources such as places of employment and health care significantly impact residents' ability to regain economic independence. Future research is necessary to identify the ideal design and location of domestic violence shelters in order to create healing spaces for survivors of intimate partner violence," Leat said.
Environmental stressors within the built environment can greatly impact health. Environmental stressors, such as noise levels, crowding, and housing quality have been shown to impact physical healing as well as mental health. Although environmental stressors have been examined within healthcare environments, such as hospitals and clinics, very little research exists about the presence of environmental stressors within shelter environments. Furthermore, even less research has looked at environmental stressors present within intimate partner violence (IPV) shelters. The built environment of IPV shelters and environmental stressors present within the shelter have the potential to greatly impact survivors' health and influence whether survivors gain positive outcomes from services provided within the shelter.
To address this gap in knowledge, this study identifies environmental stressors found within IPV shelter environments and formulates a measurement to capture survivors' level of environmental stress. Ten survivors were interviewed at three shelters, one rural and two suburban, across North Texas in order to gain knowledge about the physical structure of shelters and potential environmental stressors experienced by shelter residents. In addition, a secondary data analysis was conducted on 150 qualitative interviews of survivors based across the state of Texas to identify additional stressors. Finally, spatial mapping of the built environment of the location of the shelters was conducted to identify potential stress related to mobility and access to employment and healthcare. Then using participant feedback and GIS data, a measurement was developed to capture survivors' level of environmental stressor in shelters. The measurement was developed by obtaining feedback from shelter residents, shelter staff, and experts within the research community who have studied the impact of the built environment on survivors' outcomes.
The results of this study have implications for the development and design of IPV shelters and for the rules and policies that govern life within the shelter.
Sarah also presented two posters at the 2021 annual meeting of the Transportation Research Board (TRB), both based on her NITC dissertation: The first is Exploring the Feasibility of Shared Mobility Services for Reducing Transportation Disadvantage Among Survivors of Intimate Partner Violence, and the second is A Measure of Intimate Partner Transportation Coercion: A Systematic Review and Scale Development. 
ABOUT THE PROJECT
Sarah Leat
, University of Texas at Arlington, Social Work
Photo by Penderev/iStock
RELATED RESEARCH
To learn more about this and other NITC research, sign up for our monthly research newsletter.
The National Institute for Transportation and Communities (NITC) is one of seven U.S. Department of Transportation national university transportation centers. NITC is a program of the Transportation Research and Education Center (TREC) at Portland State University. This PSU-led research partnership also includes the Oregon Institute of Technology, University of Arizona, University of Oregon, University of Texas at Arlington and University of Utah. We pursue our theme — improving mobility of people and goods to build strong communities — through research, education and technology transfer.
Share this: