NITC Utah Grad Goes On to Postdoctoral Research Position at MIT
Posted on June 7, 2021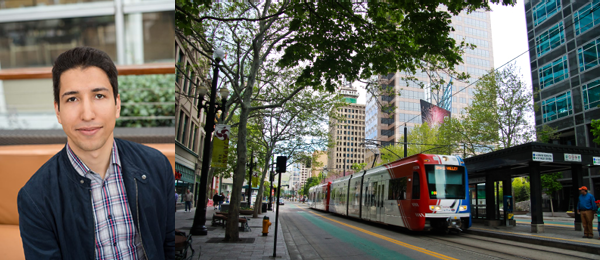 Dr. Sadegh Sabouri, the newest PhD graduate of the University of Utah's Department of City and Metropolitan Planning, will be working at the Massachusetts Institute of Technology this coming fall as a postdoctoral researcher. Sadegh (Sadi for short) has worked on numerous NITC projects with his advisor Reid Ewing, and has presented this work in two NITC webinars: New Travel Demand Modeling for our Evolving Mobility Landscape and Transportation Benefits of Polycentric Urban Form. 
Follow Sadi: LinkedIn | Twitter
Recent publications include an article in Landscape and Urban Planning, "Exploring the relationship between ride-sourcing services and vehicle ownership;" another in Transportation Research Part D on "Exploring the influence of built environment on Uber demand;" and one that has become the second most viewed/download article in the history of the Journal of American Planning Association: "Does Density Aggravate the COVID-19 Pandemic?"
Sadegh is excited to join MIT's Senseable City Lab, which is characterized by an omni-disciplinary approach: the Lab "speaks the language of designers, planners, engineers, physicists, biologists and social scientists."
"I'm so thrilled to take on a new role as a postdoctoral researcher with the Senseable City Laboratory in the Department of Urban Studies and Planning at MIT this coming fall. In this new position, I'll be working with multi-disciplinary research teams and engaging in research related to the lab's research portfolio in studying the effect of digital technology on the urban environment, with a specific emphasis on fabrication and prototyping. I'm looking forward to furthering my skills and exploring new opportunities in urban data science and cannot wait to see what the future has in store for me," Sadegh said.
We are thrilled for Sadegh, and wish him the best in his future endeavors at MIT.
The National Institute for Transportation and Communities (NITC) is one of seven U.S. Department of Transportation national university transportation centers. NITC is a program of the Transportation Research and Education Center (TREC) at Portland State University. This PSU-led research partnership also includes the Oregon Institute of Technology, University of Arizona, University of Oregon, University of Texas at Arlington and University of Utah. We pursue our theme — improving mobility of people and goods to build strong communities — through research, education and technology transfer.
Photo by KuntalSaha/iStock
Share this: