Student Spotlight: Jobaidul Alam Boni, University of Texas at Arlington
Posted on June 8, 2021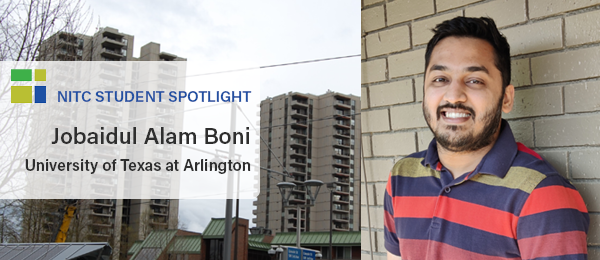 Jobaidul Alam Boni, or Boni for short, is a Ph.D student currently working as a graduate research & teaching assistant in the department of civil engineering at the University of Texas at Arlington. He also serves as the President of the ITE Student Chapter at UTA. Boni completed his B.Sc in Civil Engineering from Bangladesh University of Engineering & Technology, and his M. Eng in Transportation Engineering from University of Texas at Arlington. His research interests center around human factors and consideration of user behavior in the design, evaluation and innovation of transportation systems.
Tell us about yourself?
I am Jobaidul Alam Boni and I am a Graduate Research Assistant in Transportation Engineering at the University of Texas at Arlington. Originally, I came from a small town named 'Faridpur' in Bangladesh and moved to the capital 'Dhaka' in 2006. I finished my bachelor's in science degree from Bangladesh University of Engineering (BUET) in 2014. Then I joined the Asian Disaster Preparedness Center (ADPC) as an Engineer and worked there for three years till 2017. In August 2017 I joined UTA for my Master's in Engineering program and got my degree in 2019. Later I joined the Ph.D. program at UTA under the supervision of Dr. Kate Hyun and co-supervision of Dr. Stephen P. Mattingly. I love traveling a lot. I have visited almost every corner in my country and already visited several states in the US.
What (or who) has influenced your career path in transportation?
My interest in traveling and struggling transportation system in my homeland country has a lot to do with choosing my career path in transportation. Whenever I had a chance I would go outside the city and explore the rural parts of Bangladesh. Also, one of the major responsibilities of my previous job was to travel to different cities in Bangladesh and provide training to government officials about more advanced disaster preparedness from a transportation perspective. During my expeditions inside my country I saw the difficulties of ensuring the best transportation system possible in a small country of 163 million people with very limited capacity. So, I set my career goal to help develop innovative, safe and accessible transportation systems for everybody. My interest in this field has grown tremendously after joining the research team of Dr. Stephen P Mattingly and Dr. Kate Hyun. Their mentorship and encouragement have been an invaluable part of my career growth.
You've worked on the NITC project "Evaluating Improved Transit Connections for Ladders of Opportunity." Tell us about your work on that research?
Transit in the United States often suffers from the problem of inability to deliver travelers all the way from their point of origin to their destination. Nowadays, transit agencies consider a quarter mile as the standard walking distance, but large portions of the population, particularly Environmental Justice (EJ) populations and many attractors remain beyond this distance from transit stops. So, the main research goal of our project is to identify different innovative approaches such as hybrid ride sharing businesses, bike share programs, small route shuttles and social car-pooling options to first and last mile needs and increase mobility for all users, especially underserved and disadvantaged populations. We have chosen Dallas County as our study area. We have already developed a transit network using Dallas Area Rapid Transit (DART) transit data from General Transit Feed Specification (GTFS). The existing transit network did not capture the waiting time that might occur during their travel time due to transfer or at the beginning of the route. In our network we consider waiting time as a part of overall travel time, which accurately reflects the risk posed by any kind bus delays. Next, we developed the performance measures for accessing different opportunities, i.e. access to food, employment, education, healthcare; and selected different first/last mile strategies such as walking, biking, scooter and ride hailing with different access times. Now we are evaluating the best and effective first/last mile model which will provide the best access to all kinds of population groups in the Dallas County Area. We hope the new performance measures and the resulting strategies may be used to recommend new methods for assessing transit service and systems, which may include revising the current Transit Capacity and Quality of Service Manual.
After earning your Ph.D. in Transportation Engineering, what future work do you envision doing in transportation?
After completing my Ph.D. I want to spend more time on accessibility in transportation network planning, and understanding human behavior and human factors in an innovative transportation system. Another important transportation sector that gives me a lot of interest is the integration of bicycles, and e-bikes as an active transportation facility. I am a bicyclist and I would like to ensure more safe, reliable and improved bicycle facilities to my fellow bicyclists. In the future, I would like to see myself as a small contributor to the field of transportation in the US and also someday for my country as well.
This is an installment in a series of monthly Student Spotlights we're shining on students and alumni that are involved with National Institute for Transportation & Communities (NITC) universities. NITC is a university transportation consortium funded by the U.S. DOT, and is a Portland State-led partnership with the University of Oregon, Oregon Institute of Technology, University of Utah, University of Arizona, and University of Texas at Arlington.
Share this: