OTREC represented at American Planning Association's 2013 conference
Posted on April 24, 2013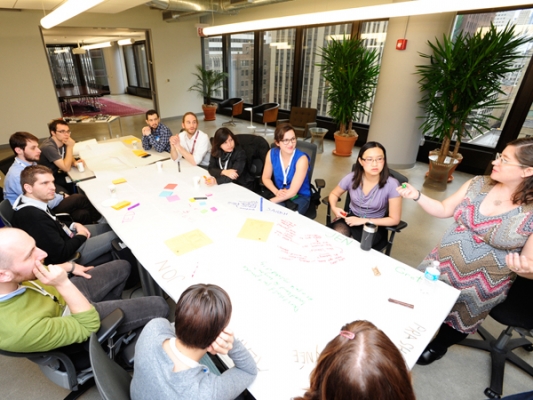 The American Planning Assocation held its annual conference in Chicago this April.
Two OTREC universities sent students to attend, and OTREC staff member Jon Makler attended the Intelligent Cities "Unconference," which was held on Wednesday, April 17.
In addition to Portland State University graduate student research group Celillo Planning Studio, which won the APA student award for Application of the Planning Process, there were other PSU students who attended just to soak up the conference. Two students from the University of Oregon also attended and created a research poster for the conference.
This year's APA gave some focus to transportation. In addition to Monday, April 15 being themed "Transportation Day: Transforming Cities Through Transportation," there were also a handful of other transportation events including workshops titled "Sustainability Implications for Urban Transportation" and "Transportation Planning in a Changing Climate."
Makler, OTREC's Education and Technology Transfer Program Manager, said that one of this year's highlights for him was the Unconference: a facilitated, participant-driven meeting which encouraged attendees to explore the ideas they were most interested in talking about. OTREC was one of about 25 organizations to take part in the Unconference.
After a welcome and orientation session, the meeting kicked off with a series of "Ignite Talks," which were similar to Ted Talks: short, inspiring speeches designed to provoke thought about various topics.
Then the roomful of about 40 people collaborated to decide what to talk about that day. After voting on ten topics, they split up into groups and commenced sharing ideas.
"The best part of coming to any conference, for most people, is getting to talk with their colleagues," Makler said. "Instead of going to an hour-long presentation followed by a Q & A, we could turn to each other and say, 'Ok, what are your big ideas?'"
The ideas this year were not shy of being big. Makler said that the topics discussed at the Unconference were all incredibly interesting: one group considered the option of "crowdsourcing" urban projects, stemming from the success of a Kickstarter campaign to build a statue of Robocop in Detroit.
Another group, including representatives from "Textizen," talked about creating an open civic dialogue using text messaging technology.
The morning session that Makler joined put forth a word of caution about such exciting possibilities, exploring the problem of tech equity. The use of new technology in planning, which offers to include members of the public in a way they've never been included before, can also be exclusive. Every resident may not have access to high-speed Internet connections and large screens for displaying maps, PDF's and other materials that planners routinely share online.
Everyone had a different perspective on the problem of tech equity, which Makler said contributed to an exciting discussion. The tables were covered in large white sheets of butcher paper, and many of the participants were taking notes on it; so when one group vacated an area, the next group could see hints of what they'd been talking about.
The sessions were run democratically, a hallmark of the Unconference or "Open Meeting" format, which invites everyone to contribute to the conversation. 
Share this: