Student Spotlight: Christian Galiza, Portland State University
Posted on January 3, 2023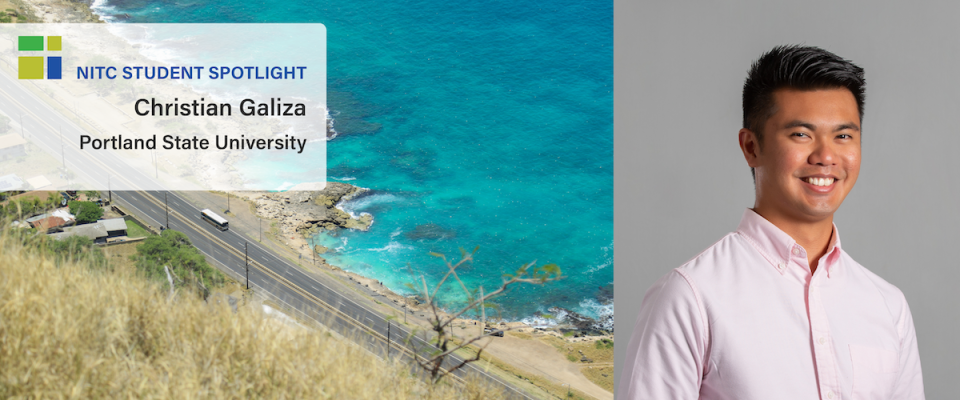 Christian Galiza is a senior in civil engineering. He is the Vice President of Communications for Portland State University's Institute of Transportation Engineers (ITE) student chapter, Students in Transportation Engineering & Planning (ITE-STEP), and also works as a structural engineering intern for Eclipse Engineering. He is the recipient of an ITE Regional Travel Scholarship to attend the 2022 ITE Western District Annual Meeting in Palm Springs, CA. He is also a 2022/23 National Institute for Transportation and Communities (NITC) scholar. Christian enjoys transportation because it's fascinating to think about the relationship between building sustainable infrastructure and transportation planning and its impact on how people move every day.
Connect with Christian on LinkedIn.
---
Tell us about yourself?
I am originally from the beautiful island of Oahu, Hawaii, and I have been working through the B.S. Civil Engineering program at Portland State University. My transportation interests include Complete Streets, safety, and issues involving transportation equity. In January 2023, I'm excited to embark on an engineering internship with the Portland Bureau of Transportation (PBOT) in their Traffic Operations section.
What (or who) has influenced your career path in transportation?
I used to serve in the military, so I've channeled through the massive global defense network that the military built to transport thousands of service members, contractors, and civilians daily to meet the country's strategic defense objectives. Once I realized the importance of the transportation of troops and goods in the scope of the defense industry, I became interested in transportation priorities that concern the rest of the country. From this, I then became interested in exploring transportation solutions in the Portland area and beyond. My interest in transportation was also accelerated through my involvement in our ITE student chapter. I started attending events and conferences, where I started building my network with industry professionals and other students.
You've served as the VP of Communications for ITE-STEP for two years - What are you most proud of that the student group has accomplished during your time?
I'm fortunate to have served in a leadership capacity for STEP with a dedicated group of planning and engineering students who knew much more about transportation than I did when I first became involved. We wanted to share this interest collectively with other students by hosting events and giving students the chance to learn face-to-face from transportation professionals. We were recognized by ITE both locally and nationally with the Student Chapter Momentum Awards, but most importantly, we've developed a growing niche of students with a growing interest in transportation.
After graduation, what future work do you envision doing in transportation?
I'm very interested in working on developing transportation solutions in the Portland area, as the city has become an example for the rest of the country. In the distant future, I hope to improve transit development and travel times for people in Hawaii and other parts of the country.
Photo by Colton Jones on Unsplash
This is an installment in a series of monthly Student Spotlights we're shining on students and alumni that are involved with National Institute for Transportation & Communities (NITC) universities. NITC is a university transportation consortium funded by the U.S. DOT, and is a Portland State-led partnership with the University of Oregon, Oregon Institute of Technology, University of Utah, University of Arizona, and University of Texas at Arlington.
Share this: