UA Student Ash Avila Studies the Climate Crisis with Support from a NITC Diversity Grant
Posted on January 3, 2023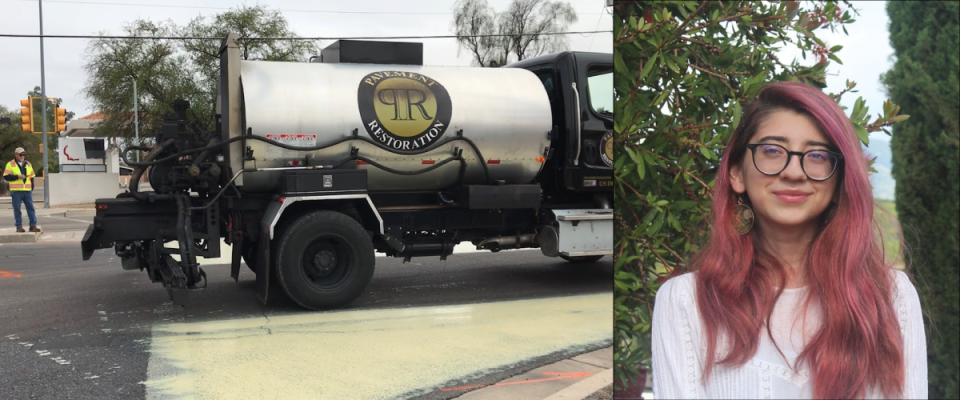 With support from a National Institute for Transportation and Communities (NITC) diversity grant, University of Arizona (UA) student Ash Avila has spent two years researching extreme heat in urban environments. An undergraduate in the Sustainable Built Environment program, Avila has supported UA researchers Ladd Keith, Nicole Iroz-Elardo and Kristina Currans on their NITC project, Assessing Cool Corridor Heat Resilience Strategies for Human-Scale Transportation. The project, which has been featured in the Washington Post and Smart Cities World, is evaluating a City of Tucson pilot application of "cool pavement" technologies, which reflect light (and therefore heat) in an effort to reduce the thermal load of roads. It is part of a larger effort by UA researchers looking at measuring and evaluating personal heat exposure.
Next week, Ash will present at her second Transportation Research Board (TRB) annual meeting. Alongside Currans, Iroz-Elardo and Keith, she will share a poster on "The Effect of Vehicular Waste Heat on Personal Heat Exposure" in the Advances in Climate Change Resilient Design, Operations, and Decision Making poster session Monday, Jan 9 from 1:30 PM - 3:15 PM.
"As a first-generation college student, I was not aware of academia as a field or what it was like to be involved in academic research," Avila said in a reflection paper about the diversity grant and her role on the project.
As a Minority Student Fellow at last year's TRB meeting, she presented a poster titled "The Effect of Vehicles on Personal Heat Exposure: A Pilot Study (PDF)." The study aims to better understand micro-climate heat risk and the effects of vehicles on personal heat exposure. Ash developed the experimental design used in the project, collected data using that experimental design, and came up with an approach to analyze the data.
"The NITC Diversity Grant helped me conduct and design my first major research project. I learned so much as I sent out logistical emails, led data collection, and wrote a research paper. This project helped me learn about extreme heat and how our travel choices could lead to temperature increases in our surrounding microclimate. I look forward to sharing my work at TRB! After TRB, I'm especially excited to keep working with my professors on a new lab project sponsored by the U.S Department of Energy focused on understanding the effects of extreme weather on the Southwest. While I graduate with my Bachelor's degree from the University of Arizona this May, I look forward to continuing my education with a Master's degree in Urban Planning," Avila said.
Through our NITC diversity grants, we seek to support underrepresented students participating in transportation research. The purpose of these awards is to empower and encourage women and students of color to pursue transportation research and job opportunities. 
Learn more about Ash in her August 2021 Student Spotlight Interview or UA student profile.
The National Institute for Transportation and Communities (NITC) is one of seven U.S. Department of Transportation national university transportation centers. NITC is a program of the Transportation Research and Education Center (TREC) at Portland State University. This PSU-led research partnership also includes the Oregon Institute of Technology, University of Arizona, University of Oregon, University of Texas at Arlington and University of Utah. We pursue our theme — improving mobility of people and goods to build strong communities — through research, education and technology transfer.
Share this: