Student Spotlight: Matt McCreary, University of Oregon
Posted on February 6, 2023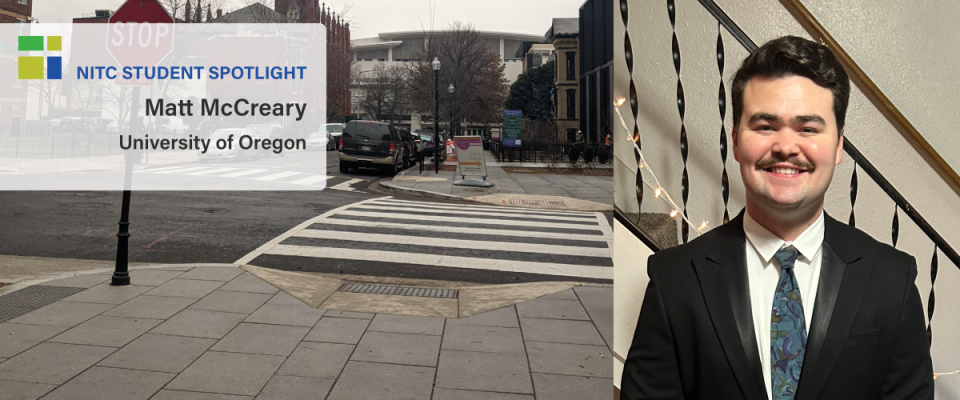 Matt McCreary is a planning, public policy and management student at the University of Oregon (UO). He is also a transportation safety planning intern for Better Eugene-Springfield Transportation (BEST), working on a project to make Main Street in Springfield, Oregon safer for all people and modes of transportation. In 2022, Matt interned for South Metro Area Regional Transit (SMART) in Wilsonville, Oregon as a part of the SMART Options Program Team working on community outreach.
---
Tell us about yourself?
My name is Matt McCreary, I will be graduating this June with a bachelor's in Planning, Public Policy, and Management from the University of Oregon. I very much enjoy walking to get around and to see new places. I am also currently working for Better Eugene-Springfield Transportation on a safety project which I am really grateful to be a part of. I can't wait to be a part of the future of transportation!
What (or who) has influenced your career path in transportation?
My Dad is the reason I found the planning field, he worked in parks and recreation and his experiences influenced my decision to pursue a career in planning. As I completed courses in my major, I began to be drawn more and more to transportation because of its impacts on so many aspects of our built environment. My interest in transportation was solidified after taking my first full on transportation course with Professor Anne Brown, because after learning more about transportation I realized it is where I feel I can make the most positive impact on the world.
You're currently involved in a Eugene sidewalk inventory project with UO's student transportation group, LiveMove. Tell us about that work?
The LiveMove Eugene sidewalk inventory is a club effort to document sidewalk conditions and crossing treatments in the City of Eugene. Currently, the City of Eugene has geographic data on where there are sidewalk facilities but is unsure what state they are in. So, with guidance of Professor Anne Brown, my team and I researched ADA sidewalk requirements, sidewalk inventory work from other cities, and types of crossing treatments. Following our research, an ArcGIS Survey123 survey tool was created to collect sidewalk condition data, and currently members of LiveMove are working on data collection for the next few months. Hopefully when this project finishes up, LiveMove will have created a comprehensive database of all sidewalk conditions in Eugene, allowing for the city to fix areas of concern.
After graduation, what future work do you envision doing in transportation?
After graduation, I see myself working in the public sector in transportation planning. I personally enjoy focusing on community outreach and engagement because I believe in the importance of creating transportation systems and options that community members can and want to use. I also see myself going back to school for my masters after starting my career in transportation at some point.
This is an installment in a series of monthly Student Spotlights we're shining on students and alumni that are involved with National Institute for Transportation & Communities (NITC) universities. NITC is a university transportation consortium funded by the U.S. DOT, and is a Portland State-led partnership with the University of Oregon, Oregon Institute of Technology, University of Utah, University of Arizona, and University of Texas at Arlington.
Share this: