Student Spotlight: Lincoln Edwards, University of Arizona
Posted on February 1, 2021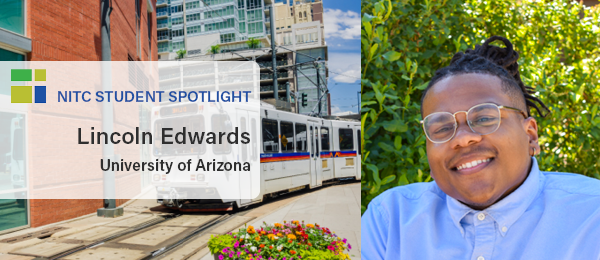 Lincoln Edwards is a masters student in urban planning at the University of Arizona, and a TRB Minority Student Fellow for 2021. He currently works as a research assistant in UA's College of Architecture, Planning and Landscape Architecture, on projects that relate to Equitable Transit Oriented Development (eTOD). In 2019 he was an intern for the Pennsylvania Department of Health. Lincoln earned a BA from Pennsylvania's Millersville University with a double major in Geography (with a concentration in global studies) and Government & Political Affairs. His future career goals center around issues related to transportation planning, gentrification, universal design, and community development.
---
Tell us about yourself?
I'm a second year Masters of Urban Planning student at the University of Arizona and a 2021 TRB Minority Student Fellow. I'm originally from Philly and received my B.A. in Geography at Millersville University in Lancaster, PA. Ever since high school, I knew I wanted to have a career in urban planning due to my passions towards urban restoration and community revitalization.
What (or who) has influenced your career path in transportation?
My upbringing as a wheelchair user allowed me to experience the type of exclusivity that transpires with substandard transportation options. I've had personal instances where I felt constrained to a certain lifestyle that I did not identify with, due to the inaccessible public infrastructure that surrounded me. Increasing transportation equity can help reduce this feeling in civilians everywhere.  
You're presenting research at TRB about the experiences and perceptions of Black pedestrians while walking. Tell us about that work?
It's a qualitative study that acts as a follow-up to an earlier research project done in 2015 that explored the racial bias in driver behavior towards pedestrians. The purpose of this follow-up study was to better understand the experiences of Black pedestrians and the unique challenges they face existing in the public space, and to elevate these voices that are often unheard in transportation decision making.
After graduation, what future work do you envision doing in transportation?
I see myself working towards a career that allows me to both advocate for marginalized communities that were the victims of discriminatory planning procedures, and to be a part of the generation that present solutions to the problems that these policies created.
This is an installment in a series of monthly Student Spotlights we're shining on students and alumni that are involved with National Institute for Transportation & Communites (NITC) universities. NITC is a university transportation consortium funded by the U.S. DOT, and is a Portland State-led partnership with the University of Oregon, Oregon Institute of Technology, University of Utah, University of Arizona, and University of Texas at Arlington.
Share this: