The NITC Guide to the 2021 Transportation Research Board (TRB) Annual Meeting
Posted on January 7, 2021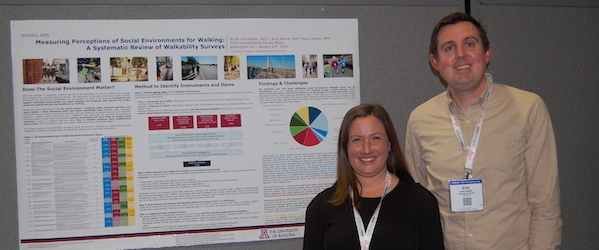 The world's largest transportation research conference is celebrating its 100th birthday online, with over 14,000 RSVP's. TRB 2021 officially began this week, and while we're not out roaming the snowy streets of D.C, we're still able to enjoy each other's expertise from our homes. So instead of bemoaning what we'll miss, we're celebrating the NITC-funded researchers who are presenting their work. On January 6, 2021 the Council of University Transportation Centers (CUTC) honored NITC Student of the Year Gabby Abou-Zeid, along with Hau Hagedorn, NITC associate director, who won the CUTC-ARTBA Award for Administrative Leadership.
VIEW THE ONLINE GUIDE TO NITC AT TRB 2021
DOWNLOAD NITC PRESENTATION FILES
NITC AT TRB 2021 HIGHLIGHTS
We've compiled an online NITC guide to the 35 faculty and 50 student researchers from NITC-funded universities who have contributed to 49 sessions in the TRB 2021 program. Here are just a few highlights from the guide:
MULTI UNIVERSITY: UNIVERSITY OF UTAH and PORTLAND STATE UNIVERSITY
Wednesday, Jan 27, 2:30 PM - 4:00 PM: Bi-objective Optimization for Battery Electric Bus Deployment Considering Cost and Environmental Equity — Yirong Zhou and Xiaoyue (Cathy) Liu of UU, Ran Wei of the University of California, Riverside, and Aaron Golub of PSU
MULTI-UNIVERSITY: UNIVERSITY OF ARIZONA and PORTLAND STATE UNIVERSITY
Tuesday, Jan 26, 11:00 AM - 12:30 PM: Learning from Black pedestrian experiences in Portland, Oregon — Lincoln Edwards and Arlie Adkins of the UA, Tara Goddard of Texas A&M, and Kimberly Kahn and Jaboa Lake of PSU will give an update on this qualitative research project that originally stemmed from a 2014 NITC pilot study exploring racial bias in drivers' behavior at ped crossings. The fact that this investigation is now a multi-university collaboration is a NITC Small Starts funding success story.
MULTI UNIVERSITY: PORTLAND STATE UNIVERSITY and UNIVERSITY OF OREGON
Friday, Jan 29, 2:30 PM - 4:00 PM: Equity and Exclusion Issues in Automated and Cashless Fare Payment Systems for Public Transportation — Aaron Golub and John MacArthur of PSU, Anne Brown of the UO, and Candace Brakewood of UT Knoxville will give an update on their ongoing NITC Pooled Fund study.
PORTLAND STATE UNIVERSITY
Monday, Jan 25, 1:00 PM - 2:30 PM: The Perspectives on E-scooters Use: A Longitudinal Approach to Understanding E-scooter Travel Behavior in Portland, Oregon - Nicholas Puczkowskyj, Minju Kim, John MacArthur and Jennifer Dill of PSU will share insights from their evaluation of Portland's Shared E-Scooter pilot program. Read about that study or watch a 2019 seminar for some background on the research.
UNIVERSITY OF ARIZONA
Tuesday, Jan 26, 4:00 PM- 5:30 PM: Injury Burden of Introducing E-scooters: A review of E-scooter Injury Studies Using Retrospective Review of Emergency Department Records, 2015-2019 - Nicole Iroz-Elardo and Kristina Currans of UA investigated injury implications of e-scooters. 
UNIVERSITY OF OREGON
Friday, Jan 29, 2:30 PM- 4:00 PM: Local Climate Action Planning as a Tool to Harness the Greenhouse Gas Emissions Mitigation and Equity Potential of Autonomous Vehicles and On-demand Mobility - Benjamin Clark of UO has investigated many aspects of autonomous vehicles, TNCs, and their impacts on future cities.
UNIVERSITY OF TEXAS AT ARLINGTON
Friday, Jan 29, 10:00 AM- 11:30 AM: Transportation Infrastructure as a Social Justice Issue: A Mixed Methods Analysis of a Suburban Boomtown - "Jandel Crutchfield, Erin Findley, Kate Hyun and Mehrdad Arabi of UTA, with Courtney Cronley of the UT Knoxville, look at transportation disadvantage through a social work lens. Read more about their work: When Growth Outpaces Infrastructure.
UNIVERSITY OF UTAH
Monday, Jan 25, 11:30 AM- 1:00 PM: Definitions, Types and Criteria of Centers in Planning Practice: A Review of 126 Regional Transportation Plans in the U.S. - Fatemeh Kiani, Sadegh Sabouri and Dong-ah Choi of UU will present with Keunhyun Park of Utah State University on the transportation benefits of polycentric development. Read more about that research: Regional Transportation Goals: Reducing Sprawl through Interconnected Centers.
NITC STUDENTS AT TRB 2021
We have 50 students from NITC-funded universities presenting at this year's TRB, and we're so proud of their accomplishments, persevering in their studies through a difficult year. 
Three NITC students of the year at TRB 2021
Our 2020 NITC students of the year will share their work in multiple sessions:
Four NITC dissertation fellows will be presenting their doctoral research:
Erin Roark Murphy, UTA: Thursday, Jan 21, 2:30 PM- 4:00 PM: Testing the Psychometric Properties of a Scale to Measure Transportation Access Among Individuals Experiencing Homelessness - Check out Erin's NITC-funded dissertation here. 
December Maxwell, UTA: Thursday, Jan 21, 2:30 PM- 4:00 PM: Land Allotment, Transportation Access and Indigenous Maternal Mental Health - Read more about December Maxwell's doctoral work examining how transportation disadvantage impacts American Indian/Native American women. 
Sarah Robinson, UTA: Monday, Jan 25, 11:30 AM- 1:00 PM: Sarah Robinson will also be presenting two posters in one session, both based on her NITC dissertation: The first is Exploring the Feasibility of Shared Mobility Services for Reducing Transportation Disadvantage Among Survivors of Intimate Partner Violence, and the second is A Measure of Intimate Partner Transportation Coercion: A Systematic Review and Scale Development. Read about her dissertation: Identifying and Measuring Transportation Challenges for Survivors in Intimate Partner Violence Shelters.
Robert Hibberd, UA: Friday, Jan 29, 11:30 AM- 1:00 PM: Robert Hibberd will present two posters in the same session: Index of Employment-Worker Balance by Transit Station Mode, about his NITC doctoral research, as well as Regional Differences in the U.S. Real Estate Market Response towards Proximity of Fixed Route Transit Systems, the results of a study of the benefits of fixed route transit that he worked on with Dr. Arthur C. Nelson of UA.
The National Institute for Transportation and Communities (NITC) is one of seven U.S. Department of Transportation national university transportation centers. NITC is a program of the Transportation Research and Education Center (TREC) at Portland State University. This PSU-led research partnership also includes the Oregon Institute of Technology, University of Arizona, University of Oregon, University of Texas at Arlington and University of Utah. We pursue our theme — improving mobility of people and goods to build strong communities — through research, education and technology transfer.
Share this: