Celebrating the 2020 NITC Students of the Year: Gabby Abou-Zeid, Aliza Whalen, and Erin Roark Murphy
Posted on January 4, 2021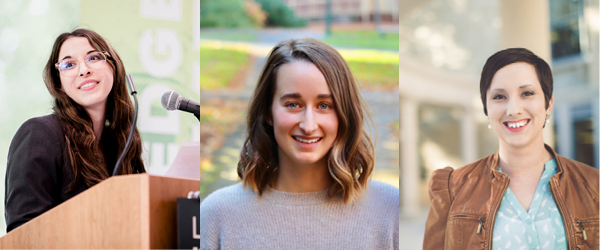 The Outstanding Student of the Year award is presented during the Council of University Transportation Centers (CUTC) banquet at each annual meeting of the Transportation Research Board, where the U.S. Department of Transportation honors an outstanding graduate student from each UTC. Gabby will be presented with the award for NITC at the virtual CUTC award ceremony and banquet on January 6, 2021. See past NITC Students of the Year.
Another honoree at this year's CUTC banquet is Hau Hagedorn, our associate director, who will receive the CUTC-ARTBA Award for Administrative Leadership.
2020 NITC Outstanding Student of the Year: Gabby Abou-Zeid, Portland State University
Gabby Abou-Zeid holds a B.S. in Sustainable Built Environments from the University of Arizona and is currently a second-year Civil Engineering MSc student with transportation emphasis at PSU. Working in Dr. Kelly Clifton's Sustainable Urban Planning and Engineering Research Lab (SUPERLab), her interdisciplinary research examines multimodal travel behavior, urban freight, and intersections between transportation and land use. In 2018, she participated in TREC's Transportation Undergraduate Research Fellowship (TURF), where she worked on a Caltrans-sponsored project for improving transportation impact analyses at affordable housing developments. Her current research is focused on adoption of, attitudes toward, and barriers to using online delivery platforms for household food shopping in response to COVID-19. She is the Dwight D. Eisenhower Transportation Fellowship Program's Top Ranked Masters Fellow for 2019/2020, a 2020 Eno Center for Transportation Future Leaders Development Conference Fellow, and a cat person. Read a February 2020 interview with Gabby. 
2020 NITC Master's Student of the Year: Aliza Whalen, University of Oregon
Aliza Whalen is a graduate student, research assistant, project manager, and LiveMove co-president in Community and Regional Planning at the University of Oregon. She is a 2019 NITC student scholar and a 2020 Eisenhower Transportation fellow. Aliza's work focuses on transportation equity, improving mobility outcomes, and exploring the intersection between transportation, land use, and housing. Her graduate coursework began with a month-long study abroad trip to Denmark, Sweden, and the Netherlands to learn how to redesign cities for people on bikes. As a research assistant, Aliza worked with Dr. Marc Schlossberg and Dr. Rebecca Lewis on the new Rethinking Streets During COVID-19 (download here), a NITC-supported book of case studies on COVID-era street changes that support physical distancing while walking, rolling, eating or being. She is also managing a project to create Lane County wildfire evacuation route maps with the Institute for Policy Research and Engagement (IPRE) at the UO. Aliza's Eisenhower research focuses on how bikeshare docking stations impact low-income communities, asking: are bikeshare docking station locations associated with neighborhood change? When not at her desk, this native Oregonian enjoys cooking new recipes, trail running, riding her bike, and reminding friends and family to wear sunscreen. She anticipates graduating in June 2021. Find Aliza on LinkedIn or view her 2019/2020 NITC Student Scholar profile.
2020 NITC PhD Student of the Year: Erin Roark Murphy, University of Texas at Arlington
Erin Roark Murphy, ABD, LMSW, is a doctoral candidate in the School of Social Work at The University of Texas at Arlington. Her research area is older adult homelessness at large, with particular attention paid to the built environment, transportation, and opportunities for community building through the arts. Her dissertation, Transportation as a critical factor in the homelessness continuum: A life course perspective of mobility preceding and following older adults' experiences of homelessness, is funded through a NITC dissertation fellowship. Erin has worked on several NITC products including: 1) "You are really at their mercy": Examining the relationship between transportation disadvantage and social exclusion among older adults through the use of innovative technology; 2) Transportation mobility among low-income, transportation disadvantaged older adults living in a low density urban environment using innovative data collection methods, and; 3) Transportation and homelessness: A systematic review. Erin commonly works at the boundaries of oft seemingly disparate fields and enjoys mentoring aspiring social workers on interdisciplinary teams. She has worked on collaborations with social work, civil engineering, urban planning, fine arts, computer science, dentistry, nursing, public health, and musicology (see Student experiences engaging in interdisciplinary research collaborations: A case study for social work education). Read a March 2019 interview with Erin.
The National Institute for Transportation and Communities (NITC) is one of seven U.S. Department of Transportation national university transportation centers. NITC is a program of the Transportation Research and Education Center (TREC) at Portland State University. This PSU-led research partnership also includes the Oregon Institute of Technology, University of Arizona, University of Oregon, University of Texas at Arlington and University of Utah. We pursue our theme — improving mobility of people and goods to build strong communities — through research, education and technology transfer.
Share this: