Student Spotlight: Xiaobo Ma, University of Arizona
Posted on May 4, 2022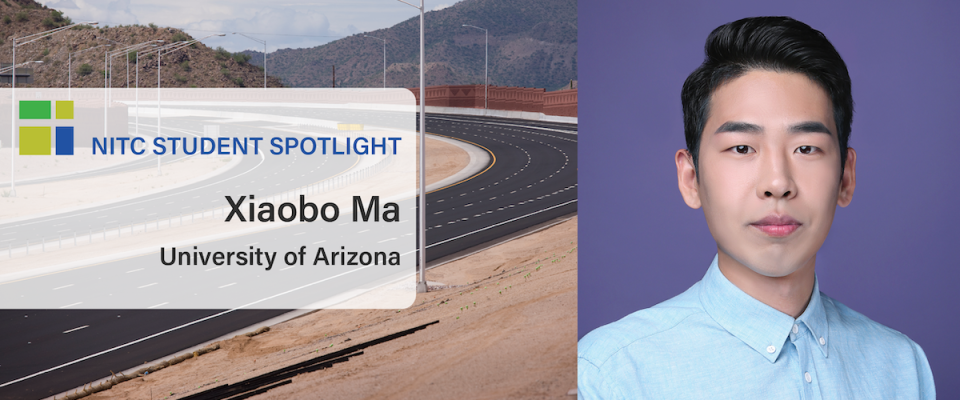 Xiaobo Ma is a Ph.D. Candidate from the University of Arizona. His major is Civil Engineering with an emphasis in Transportation Engineering and a minor in Statistics and Data Science. He is a recipient of the Jenny L. Grote Student Leadership Award this year, which recognizes an exemplary graduate ITE student chapter member who has shown exceptional dedication to the transportation profession through ITE service, mentoring, research, real-world experience, and other noteworthy accomplishments. He has written multiple journal papers and won several influential awards in the U.S. and China, and has worked on many hands-on and practical research projects for public agencies in Arizona.
Connect with Xiaobo on LinkedIn
---
Tell us about yourself?
I am a Ph.D. Candidate from the University of Arizona. I am a fast learner, a team player, and a passionate researcher aiming to apply statistical and machine learning methods to solve complex and practical problems in the field of transportation engineering. In my free time, I love swimming and traveling.
What (or who) has influenced your career path in transportation?
Under my advisor Dr. Yao-Jan Wu's supervision, I have been involved in several research projects and doing solid practical and theoretical research in developing local, regional, and national solutions to solve the traffic mobility and safety issues on arterials and freeways in the past couple of years. The positive and influential outcomes of these research projects greatly motivate me to continue to work on developing effective technologies and data-driven solutions to improve the mobility and safety of road users and goods.
You're the president of UA's ITE Student Chapter. Tell us about what the student group has accomplished this year?
Managing the UAITE's regular meetings, arranging conference trips, pursuing funding opportunities for the UAITE, and involvement in the K-12 STEM outreach activities are major accomplishments of the student group. We invited speakers from both academia and industry to share their valuable experiences with UAITE members. Besides, UAITE members attended several in-state and out-state conferences. I also took the initiative to get funding from different sources to guarantee the smooth operation of UAITE. In addition, our members actively participated in K-12 STEM outreach activities.
After graduation, what future work do you envision doing in transportation?
After graduation, I hope to continue to work on developing data-driven solutions to solve practical problems. Specifically, my future research goal is to establish a general framework that can be applied to accurately evaluate traffic performance. My past experience allows me to continue to make advances here. I also want to play an active role in some transportation-related professional associations.
This is an installment in a series of monthly Student Spotlights we're shining on students and alumni that are involved with National Institute for Transportation & Communities (NITC) universities. NITC is a university transportation consortium funded by the U.S. DOT, and is a Portland State-led partnership with the University of Oregon, Oregon Institute of Technology, University of Utah, University of Arizona, and University of Texas at Arlington.
Photo by LOUOATES/iStock
Share this: