Introducing the Newest NITC Dissertation Fellows Researching Transit and Transportation Access
Posted on July 8, 2020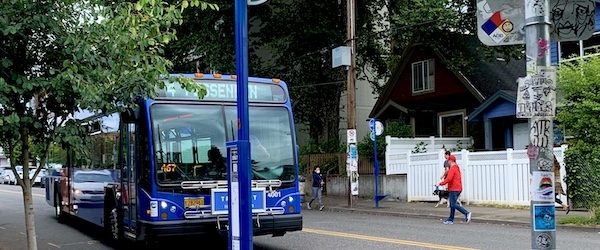 The National Institute for Transportation and Communities (NITC) is proud to introduce our four Summer 2020 Dissertation Fellows, together awarded $60,000 in total funding. Read about their projects below, or learn how to apply for funding through the NITC Dissertation Fellowship Grant. 
---
Travis Glick, Portland State University
Learn more about Travis in his December 2018 Student Spotlight
.
Dissertation: Methodologies to Quantify Transit Performance Metrics at the System-Level
Transportation performance metrics have typically focused at two main scales: a microscopic scale that focuses on specific locations, time-periods, and trips; and, a macroscopic scale that averages metrics over longer times, entire routes, and networks. Microscopic methodologies often have computational limitations, while macroscopic methodologies ascribe artificial uniformity to non-uniform analysis areas. These limitations highlight the need for a middle approach. This dissertation merges four common types of transit data collected over a full year. The resulting data set is aggregated to reduce computational requirements, yet preserves high granularity for statistical analysis. Examined at this mesoscopic level, system performance measures at this may be used to examine variations in transit service, quantify congestion, and compare travel patterns at the route and system level.
Robert Hibberd, University of Arizona
LRT/BRT/SCT/CRT Development Outcomes FINAL PHASE
and
Updating and Expanding LRT/BRT/SCT/CRT Data and Analysis
with his advisor, Dr. Arthur C. Nelson
.
He is a 2020
NITC dissertation fellow
.
Learn more about Robert in his July 2020 Student Spotlight
. 
Dissertation: Employment-Worker Balance & Polycentric Transit-Oriented Development: Towards an Index
This dissertation will consider the effectiveness of transit-oriented development (TOD) at addressing the equity challenge of urban residential isolation from relevant employment centers. Theories of compact urban development posit that employment-worker balance (EWB) is a key component of TOD and is aided by developing the built environment in a polycentric configuration. This dissertation will clarify the measurement of EWB by producing an index that reveals the multidimensional latent processes underlying it, and their many unique regimes across space. The results will be of use to the practitioner and policymaker interested in advancing normative goals of equity through greater accessibility.
Erin Murphy, University of Texas at Arlington
Learn more about Erin in her March 2019 student spotlight
.
Dissertation: Transportation As A Critical Factor In The Homelessness Continuum
 Transportation is an often-cited barrier to health management, employment, social inclusion, and access to social services. Despite its importance, transportation is largely overlooked in the homelessness literature and, despite their vulnerabilities, persons experiencing homelessness remain largely ignored in transportation research and planning efforts. In an effort to fill these gaps in the extant literature, this study uses life course narratives to explore the impact of transportation dependency, access, and mobility and their influence on homelessness. Study outcomes will offer implications aimed at improving the mobility of persons at risk of homelessness and those currently experiencing homelessness, considering transportation as a critical intervention point in the homelessness continuum.
Sarah Robinson, University of Texas at Arlington
Dissertation: Identifying and Measuring Transportation Challenges for Survivors in Intimate Partner Violence Shelters
Survivors of intimate partner violence (IPV) are likely to experience transportation challenges. Inadequate transportation can lead to challenges accessing health care, increased usage of police services, and frequent IPV shelter stays. While research has identified lack of personal transportation as a barrier for survivors, little is known about their mobility. To understand survivors' perceptions of and experiences with transportation, 20 IPV shelter residents will be asked to participate in one-on-one qualitative interviews which will follow a semi-structured interview guide. Results of this study will inform shelter policies surrounding transportation services provided as well as inform practitioners and government officials of potential ways of improving public transportation access for shelter residents.
---
NITC Dissertation Fellowships are open to students currently enrolled in a transportation-related doctoral program at Portland State University, University of Oregon, Oregon Institute of Technology, University of Arizona, University of Texas at Arlington or University of Utah. Students must be U.S. citizens or permanent residents and must have advanced to candidacy for the Ph.D. degree prior to the application deadline.  
The National Institute for Transportation and Communities (NITC) is one of seven U.S. Department of Transportation national university transportation centers. NITC is a program of the Transportation Research and Education Center (TREC) at Portland State University. This PSU-led research partnership also includes the Oregon Institute of Technology, University of Arizona, University of Oregon, University of Texas at Arlington and University of Utah. We pursue our theme — improving mobility of people and goods to build strong communities — through research, education and technology transfer.
Share this: