The NITC Guide to the 2020 Transportation Research Board (TRB) Conference
Posted on January 6, 2020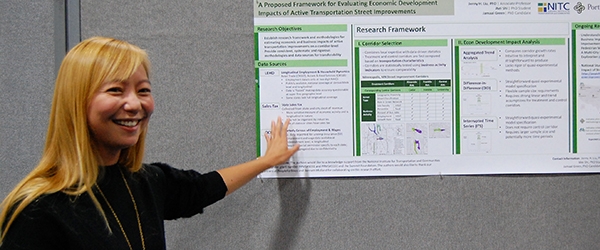 This page serves as a homebase for our coverage of the 2020 Transportation Research Board (TRB) annual conference. Check back here for ongoing updates, as well as our Twitter and Facebook.
NITC GUIDE TO TRB (PDF): Our printable schedule of where all of our NITC researchers will be presenting at lectures, poster sessions, and workshops.

NITC RECEPTION AT TRB: Join us for transportation bingo and networking on Monday, January 13 (8:00 –10:30 PM) nearby at Fadó Irish Pub.

NITC STUDENT AWARD AT CUTC BANQUET: We'll be celebrating our 2019 NITC "Student of the Year,"  Samuel Jensen of the University of Arizona, at the annual CUTC Banquet.
NITC AT TRB 2020 HIGHLIGHTS
Below is a small sampling of the expertise NITC is bringing to TRB 2020. For the full list of lecterns and poster sessions, see the NITC at TRB 2020 Guide.
82 faculty and 50 student researchers from NITC-funded universities contributed to the program.
100 papers were accepted for presentation at the conference, in

35 lectern presentations,
62 poster sessions, and
5 workshops.
MULTI UNIVERSITY: UNIVERSITY OF UTAH and UNIVERSITY OF ARIZONA
The Connection between Investments in Bus Stops, Ridership, and ADA Accessibility—See this in-progress NITC study shared in two sessions:
MULTI UNIVERSITY: UNIVERSITY OF TEXAS AT ARLINGTON and UNIVERSITY OF UTAH
Transportation and Land Development Poster Session on Tuesday at 6:00 PM: 
Shima Hamidi, Muhammad Qaisrani (UTA) and Reid Ewing (UU) will present "Street-level Urban Design Features, Walkability and Property Values: A Multilevel Analysis in New York City, NY." Read about more NITC research into multimodal travel demand modeling, including how built environment factors affect non-motorized travel modes, led by Reid Ewing.
UNIVERSITY OF ARIZONA
Analyzing and Planning the Pedestrian Environment Poster Session on Tuesday at 3:45 PM: 
UNIVERSITY OF OREGON
Parking Space: Recent Research in Parking Topics Poster Session on Wednesday at 8:00 AM:
PORTLAND STATE UNIVERSITY
Bicycling Toward Equity: Opportunities, Barriers, and Policies for Vulnerable Groups Lectern Session on Tuesday at 8:00 AM:
UNIVERSITY OF TEXAS AT ARLINGTON
Engagement in Unexpected Places Lectern Session on Monday at 3:45 PM:
UNIVERSITY OF UTAH
Travel Modeling Poster Session on Monday at 3:45 PM: 
-->DOWNLOAD THE FULL GUIDE TO NITC AT TRB 2020
The National Institute for Transportation and Communities (NITC) is one of seven U.S. Department of Transportation national university transportation centers. NITC is a program of the Transportation Research and Education Center (TREC) at Portland State University. This PSU-led research partnership also includes the Oregon Institute of Technology, University of Arizona, University of Oregon, University of Texas at Arlington and University of Utah. We pursue our theme — improving mobility of people and goods to build strong communities — through research, education and technology transfer.
Share this: